Medical Director, Veterinarian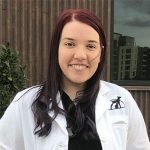 Dr. Hsu hails from sunny California. She was born and raised in the Los Angeles area, and moved to Northern California to attend veterinary school at the University of California, Davis. She recently moved to Houston and is having a blast exploring the restaurants and all the dog parks with her puppy Gilbert and her partner (who is also a veterinarian). Gilbert is a parvovirus survivor and a rescue! He brings endless joy to Dr. Hsu and her partner, and can often be found at Sunset Animal Hospital visiting and bringing cheer to the staff. Dr. Hsu is thrilled to join Sunset Animal Hospital's amazing team. She enjoys surgery and connecting with her clients. Outside of work, she loves to cook and spend time outdoors.
HELP US SPREAD SOME PAWSITIVITY!